I am stunned. I have absolutely no idea how I managed to pull getting selected off, but I have been selected and got an confirmation email on Wednesday night that I have been invited to go to the
Review Santa Fe
at
the Centre in Santa Fe, New Mexico
to have my photographs reviewed! I am s**! scared.... what if they find me out and are disappointed when they see I am just "little ol' me" green as a leprechaun's (ahhhhh)!!! What am I going to do......
Maybe I somehow actually did land in Oz after posting my at the end of the rainbow piece on my blog and this is all a dream?
Maybe I should therefore go in disguise as I have nowhere near the credentials or background of the other people that have been selected to attend this review in the past. Am I just deluding myself and therefore shouldn't go as I will just disappoint and be disappointed as I am not the calibre that they get ....
....My blonde head can't take this excitement, I mean, what the!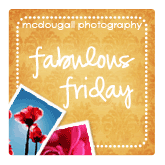 Jennifer personally asked in a lovely comment she left me the other day if I too would join in her Friday link. How could I refuse something fabulous especially when I was all dressed up special! Hope her Friday link is the huge success she hopes it to be.