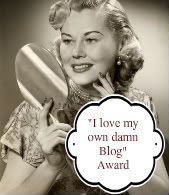 Thank you Leigh for bestowing this to me, I laughed so much when I got it and graciously accept as it ties in with the tradition of accepting oscars and awards of the likes - I have done some serious research you see!! So sit down and enjoy - ha ha!!
But first the traditional rules!
Part of this is that I now have to post this button on my Blog and then write 3 things I love about myself!!! After completing this, I must invite 3 bloggers (well I have gone further) that I respect to come and admire my award. Indeed I have gone further as I will invite all of you who read this to read on and marvel at this magnificent award, and learn more about its traditions. I know if you read on you will want one too - all in good time we must follow traditional rituals!!!
So first for some traditional acceptance speech and of course the traditional and obligatory 3 things I love about myself so before you rush on over to Leigh's place to pinch it, finish reading this please no breaking traditions please or you won't get one!
So as an acceptance speech, I thought I would dig deep into the origins of acceptance speeches with 2 very funny British comedians ......
and then I laughed at this one Will Ferrell did. He was a bit too busy to do one personally for me but you get the drift.....
So thank you Leigh for this and I know you said I had to say 3 things I love about myself these humble things are:-
I love the fact that after a troubled childhood in Nice, I joined the Foreign Legion and was only thrown out when they discovered I was a female - but only after I had received various medals etc!

I love that my skull is made of the finest Murano Glass. I have to be quite careful not to bang my head, but if I gently tap it, there is a delightful ringing noise!

I love that I have a wonderful singing voice but it only sounds great at ultra sonic level. When I go swimming in the sea Whales often accompany me!
Now please do feel free to leave a comment and follow along with Leigh's tradition of giving yourself a well deserved award!!!
You too can marvel at having this award that Leigh has given me, you know you want one so join in by pinching it and putting it on your blog and doing the very same. Make sure however to follow her rules which can be found at
http://leighvslaundry.blogspot.com/2010/03/dont-hate-me-because-im-busy-being.html
!!!
You are also very welcome to stick around and follow my fabulous blog!!!!